Rio de Janeiro
Rio de Janeiro dating guide advises how to date Brazilian women and what are the best places to meet single girls in Rio de Janeiro, Brazil.
Dating Guide
Rio de Janeiro is the second-most populous city in Brazil and the sixth-most populous in the Americas. The city is among the most visited ones in the region due to its vast tourist attraction sites. Major attraction sites include its beaches, nature reserves, and museums. It's also one of the cities with a very outstanding woman in the region. Brazilian women are known to be friendly and outgoing. Dating in Brazil is considered relatively more straightforward because the country has a fun-loving and easy going vibe. Casual hookups are pretty common, while making it last long term can be a little trickier. If you are looking for a holiday romance, then Brazil is one of the top destinations.
Most young people make use of online dating apps to find partners. The most popular dating app in the region is Tinder. Rio de Janeiro has the highest number of active users of Tinder than any other city in Brazil. The highest percentage of the users are looking for casual sex and casual hookups. Brazilian women are modern, independent, and have pretty high standards when it comes to dating. To date a local girl, you need to be very charming and lucky.
How to Date Brazilian Women
Dating a Brazilian woman can be similar yet different from dating women of America. There are no particular guidelines for dating these girls, so always work with what's works for you best. Any Brazilian girl interested in you will always make it easier for you, but if they don't show any sign of interest, they may not be much into you. Here are some unique guidelines to successfully date a girl.
Be confident: Brazilian women love to hunt in packs just like the wolves. The girls always walk in packs making moves on guys they find attractive. When they pick, you always act with self-confidence and also some little humor. If you act with fear, they will make fun of you and leave. Self-confidence is one significant aspect that will help you date Brazilian women.
Physical contact: Whether they are shy or not, Brazilian girls love being touched. Even if it's the first date, always hold their waist or put your hand around their shoulder; they will never say no to this type of action. This helps them feel safe about your interest.
Always use a good lotion: Brazilian women love guys who smell good. Fresh smells indeed attract some of the gorgeous Brazilian beauties. They love fresh smells, as if you have just left the bathroom.
Always be honest with your needs: Brazilian girls love honest people. Being straightforward is essential for a successful date. Suppose there is something you don't like. You are expected to say it even if it makes them uncomfortable. Honesty is the cornerstone of Brazilian culture, and most Brazilians value these attributes with admiration.
Dress well: Brazilian girls love guys who have a great sense of fashion. If you want to impress some Brazilian babe, always wear nice clothes. Good t-shirts and nice pants with a good cut will make it easier for you.
Speak your language: If you are not Brazilian, speak your language, and find you sexy because you are different. Compliment them in your language, and they will automatically want to know what you mean. These actions rate you as fun, cute and friendly.
Brazilian girls do not open to everybody: Just because they flirt with everyone doesn't mean they will date anyone. Brazilian girls will only open to guys who treat them with respect and honesty.
Best Places to Meet Single Girls
Nightlife in Rio de Janeiro is always at top levels. The city is home to many bars, nightclubs, and other open places to meet single ladies. There are three main places to meet up with single girls while in berlin city, and one is in the different nightlife spots where you can flirt with waitresses. You can also opt to get online with apps like Tinder and Badoo, which are used by hundreds of thousands every day. Another great option is open places like museums, parks, and famous streets. Universities and colleges are also great spots to pick up single girls. Unlike most western cities, the problem is not meeting girls but where to take them for dates. The good thing about Brazilian women is that they will help you come up with date ideas. Here are some of the favorite spots to get single girls in Rio de Janeiro.
Bars, pubs and nightclubs: The nightclubs are some of the best places to meet single girls. Most women here are wonderful with the idea of leaving with a relative stranger from these bars. Casual sex in these clubs is much popular, making it an excellent option for travelers and ex-pats. While here, always take a little caution due to the level of security. Most people get drunk and lose their valuables. Never take any drinks from strangers or even leave your drink unattended. Clubs in the city throws some of the craziest parties in the region. Encontro dos Bailes is a popular organization that organizes some of the best underground parties and raves you will ever encounter. Lapa is another club that attracts a large number of students from local universities. It's an excellent place for ex-pats looking to hook up with university girls. some of the most popular clubs include Carioca da Gema,leviano bar, and Clube dos Democratic.
Shopping malls: Being one of the most populated cities in Brazil, Rio de Janeiro has various chains, clothing stores, and supermarkets. Malls here feature designer brands and individual labels, especially those from local fabrics. The small cafes, restaurants, and clubs inside malls attract many people, especially women. Most malls also have cinemas inside that attract a large group of movie lovers. Meeting single women in malls is no longer strange but a common thing today. While you can start talking to her, and if the conversation flows, you can then decide to visit a restaurant. In situations where you meet a lady paying for something you can afford, you can pay for them. Brazilian women love that kind of attention. Some of the most popular malls include Leblon, Shopping Rio Sul, and Shopping Tijuca.
Outdoors: Rio de Janeiro has a lot of fantastic outdoor places, but beaches are the most outstanding. You will find many gorgeous Brazilian girls on the beaches engaging in numerous activities. Some of the activities on the beaches include diving, swimming, jet-skiing, and beach volleyball. Most girls head to the beach with nothing but a thong and a skimpy top. There are many girls to choose from; all you need is to strike a conversation and see where it leads you. Other popular outdoor locations include museums, parks, and public transport.most popular names in the outdoor scenes include Capacabana beach,Ipanema,Praia de Vermelha and Praia do Abrico.
Universities and colleges: Brazilian universities are mostly packed with local girls. Most rich families will send their children to the US, Argentina, and Chile for the best possible education because local universities are ranked low on the world rankings. Aside from that, university grounds are a perfect ground for hunting single women. Most of these universities interact with the city making them hard to access but The University of Rio de Janeiro is among the best university for hookups. The university attracts many students every year, bringing tremendous breakthroughs in different industries in a positive way. The Girls who visit here are likely to be more educated than the general population and often speak good English. The campus is scattered throughout the city, but the main campus is located on Ilha do Fundao. The human-made island is home to many students, clubs, bars, and cafes filled with students. If you are targeting university girls, this is the best hunting ground.
Top 10 Nightclubs and Bars to Pickup Girls
It's common among youngsters and middle-aged people to visit bars and nightclubs in Rio de Janeiro. Most of the young men and women love to visit a bar before heading home. Beers help them relax and let go of the pain of hard work. As a traveler or an ex-pat looking for a hookup, don't be surprised if a girl comes up to you and asks for a dance. If you spot a girl that impresses you, all you have to do is stand up and offer some drinks. Start a good conversation to impress her. If they don't accept your offer, move on to the next one since there are many girls in the city to choose from. Some of the top clubs to pick up Brazilian women include:
Lapa is probably the best area to take advantage of the night. It is a favourite hangout spot for students, as the bars and clubs always have drinks specials. However, there are people of all age groups looking to party. Some of the better clubs and bars in this area include:
Clube dos Democraticos
Teatro Odisseia
Santa Teresa also provides an excellent way to spend the night, but with more of an artsy, bohemian twist. You will definitely find lots of students and lots of girls looking for foreign guys. Furthermore, most of the bars aren't as pricy as elsewhere in the city. The best locations are listed below:
Of course, no nightlife guide would be complete without mention of Copacabana. It is an all-day district, which means that after your trip to the beach, you can easily head to the clubs with someone you have already picked up or simply head out with the goal of pulling. The best clubs and bars are: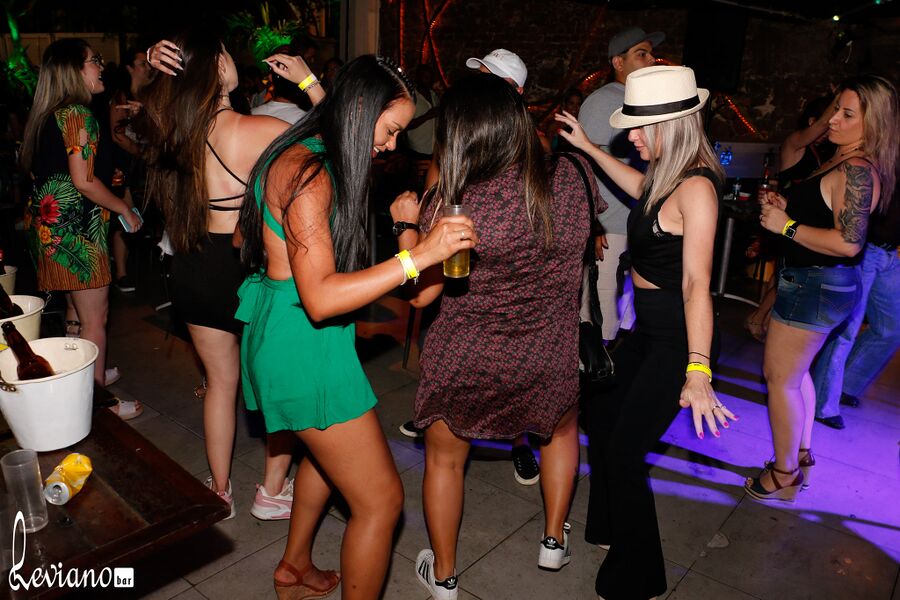 Dating Apps
Dating apps have risen in popularity in recent years. Using dating apps is a great way to prevent wastage of time checking out for girls on the streets. There are many dating apps on the internet serving different purposes. Some have extensive follow up while others have few users. The most common dating apps used in Rio de Janeiro include:
See Also